Testimonials
There are many things I can say about the high quality of service I provide to Home Seller and Home Buyer Clients, but probably none would be as credible as testimonials from recent Clients themselves.
Please take a moment to read the following testimonials. I hope they indicate my experience and integrity, as well as make it clear how much I enjoy helping people with their real estate needs. I would be happy to email you additional testimonials if you are interested.
---
Thank you
Hello Wendy,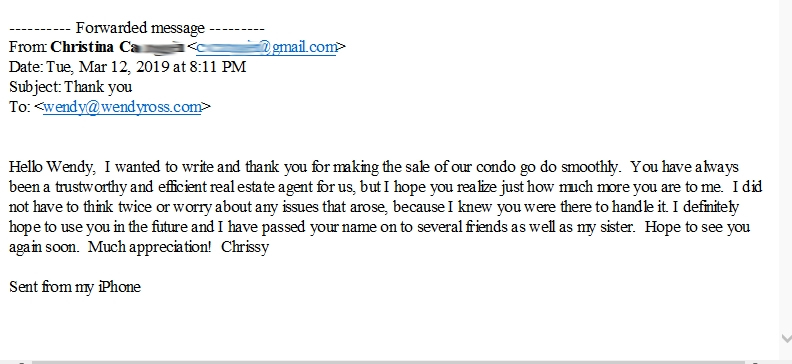 I wanted to write and thank you for making the sale of our condo go do smoothly. You have always been a trustworthy and efficient real estate agent for us, but I hope you realize just how much more you are to me. I did not have to think twice or worry about any issues that arose, because I knew you were there to handle it. I definitely hope to use you in the future and I have passed your name on to several friends as well as my sister. Hope to see you again soon. Much appreciation!
Chrissy
March 12th 2019
---
House Listing
Hi Wendy,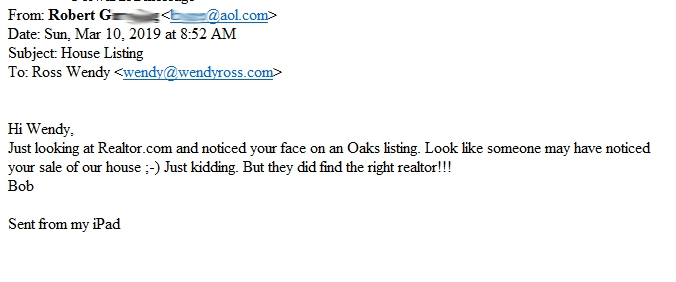 Just looking at Realtor.com and noticed your face on an Oaks listing. Look like someone may have noticed your sale of our house ;-) Just kidding. But they did find the right realtor!!!
Bob
March 10th 2019
---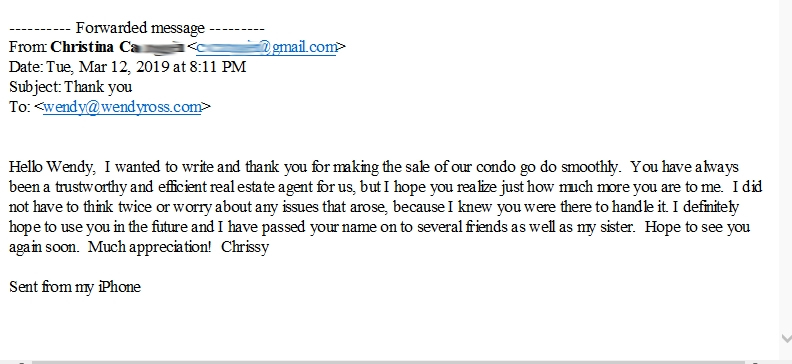 Showing Feedback
Yes you did. Love it!
I pass it on, so friends can see who I'm calling best pro in the business!
.............. 👍 ................. D
David S.
March 7th 2019
---
This is just to say thank you for all your help when we were looking for a place for Pam and Zoe to move to. Despite all the obstacles you stayed with us and stood by us with your professional "shoulder" to our wheel. We could have never succeeded in getting our purchase of the condominium closed without your constant wonderful help. You never lost heart and you did not give up and we are in your debt for that. you are truly a joy to work with. Should anyone ever ask to speak to someone you have served, please give them my contact information. YOU are a very special asset to the Florida real estate community. And to me and my family. Again, my thanks.
Kathryn Carter, Sarasota FL
---
We just wanted to drop you a note to express my appreciation for all of the effort you extended in selling both my home and my mother's during the last several months. You were a joy and a pleasure to work with. Your professionalism, positive approach, and enthusiasm made what could have been a stressful time easy to deal with. You, your sales team and staff will always have a ringing endorsement from us for anyone who might ask. Thanks again for everything you did for us.
Susan H. Rosin, Osprey, FL 34229
---
Thank you! The Ross' Team was very patient with us! It took 8 months for us to find a home-but the Ross' Team was professional and listened to our wants and needs. The Team approach with Ann, Wendy, and Judy was so wonderful!
Bill and Christine Johnson, Sarasota, FL 34232


---
What a nice person you have been to work with on 4696, and to think we will soon be neighbors!
Neil and Betty Tuckers, Sarasota, FL 34233


---
I really appreciated the way Ann and You took care of Donna and Ray. I'm quite confident that you made me look good in their eyes, and I really appreciate that, see you soon!
Gregg Steiner, St. Petersburg, FL
---
This comes with sincere appreciation. Thank you so much for all your time and effort!
Teresa and Rob Rajala, Sarasota, FL 34231
---